COVID-19
Information for Patients and Families
Temporary Update to THP's Visitor Policy
Visitor restrictions and designated entrances
In response to the evolving situation around COVID-19, and with information from Ontario's Chief Medical Officer of Health, we are taking additional precautions to safeguard the health and safety of all. Currently, visitors will no longer be permitted at any of our sites. Limited exceptions will be granted for visitors supporting patients who are:
At end of life
Critically ill
Under the age of 18
Women in the birthing suites
For more information on visitor exemptions, please contact Patient Relations at (905) 848-7164, or Patient.Relations@thp.ca.
In order to provide safe, high-quality care, we must reduce the transmission of illness as best we can to protect all patients, including those most vulnerable and at risk. We will continue to re-evaluate our infection prevention and control measures and make changes as necessary.
In addition, patients are being asked to enter through designated entrances, which will be staffed by screeners who will conduct a short verbal health assessment survey. Please refer to the maps below for information on how to access our facilities: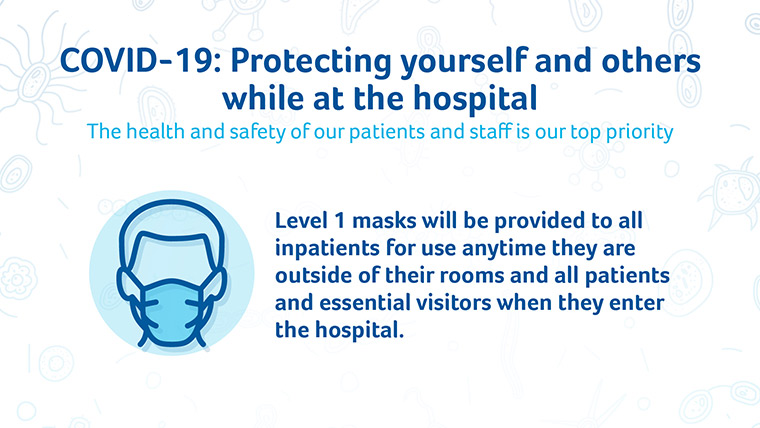 Providing patients and essential visitors with masks is an additional precaution THP is taking to ensure patients, staff and professional staff are protected.
Thank you for your patience and understanding as we respond to COVID-19.
Helping You Stay Connected
We know that one of the most important relationships is the one between people and their families and friends. We offer the following support to help patients stay connected with their loved ones:
Wi-Fi
Please note: access may sometimes be limited due to high volume of users. Please select "THP_Patient_WiFi" from network settings.
TV & Phone
Please use these free services where available.
Staying in Touch
Patients can stay in touch with friends and families through their own personal devices or bedside phones (where available) which are now free of charge. To contact a patient in hospital please call:
Mississauga Hospital 905.848.7100
Credit Valley Hospital 905.813.2200
If a patient does not have access to a personal device or bedside phone, other arrangements may be available through Patient Relations: 905.848.7164, Patient.Relations@thp.ca.
Bedside Basics
If a patient needs something from home like clothes, toothbrush or cellphone, talk to your care team to coordinate.
Thank you for your patience and understanding as we respond to COVID-19.